INSPIRING POLAR TOURISTS TO SUPPORT SCIENTIFIC RESEARCH
Each boreal summer, Poseidon Expeditions runs trips for adventurous travelers to Franz Josef Land and the North Pole on the 50 Let Pobedy, a 524-ft. Russian Arktika-class icebreaker. This year there is something new on board, in the form of a sea ice data collection project, conceived, set up and run by two of the expedition staff with the support of the company.
Lauren Farmer and Alex Cowan have worked for several years on expedition cruise vessels in the Arctic and Antarctic and this summer will be the photographer and geologist respectively.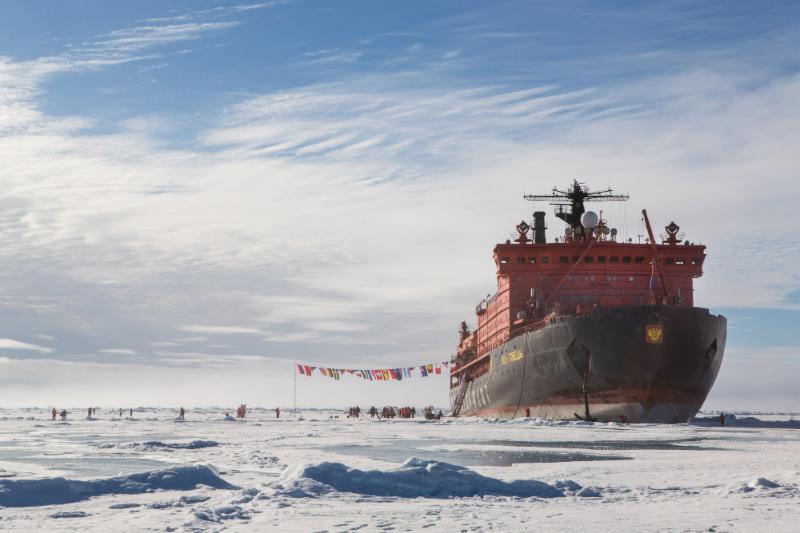 Science conducted on the 50 Let Pobedy will hopefully inspire polar tourists. It's the largest nuclear-powered icebreaker in the world.
They will be collecting measurements of sea ice thickness and extent, and melt pond distribution while breaking ice on the way to and from the pole. At the North Pole itself they will be measuring melt pond depth and salinity. These data are being provided to various researchers at The International Arctic Research Centre, McGill University and the U.S. Army Corps of Engineers ERDC Cold Regions Research and Engineering Laboratory, where they will be used to assess and model melting of the pack through the summer and also to validate thermodynamic models of the Arctic Ocean.
Through this effort they hope more adventure tourism companies will integrate so-called citizen science into their on-board programs.
"The consequent increased communication between professionals in polar tourism and science should be of great benefit to both communities and it is also hoped that it will inspire adventurous travelers, and give them a feeling of connection with the Arctic, having helped collect valuable scientific data and been more than 'just a visitor,'" said Dr. Alex Cowan.
For more information: www.polarcollective.org/www.polarcollective.org/
EXPEDITION UPDATE
Nick is Quick to Resume 6 Summits Challenge
Nick Cienski, Mission 14 founder and CEO and Under Armour Senior Director of Innovation, announced last month that the record-setting 6 Summits Challenge Expedition will continue with its climbs of six mountains higher than 8,000 meters (roughly 26,247 ft.) in 2015 (see EN, March 2015). Expeditions to Broad Peak, Gasherbrum I and Gasherbrum II will replace the climbs of Lhotse, Mount Everest, and Makalu, which were cancelled after a 7.8 magnitude earthquake in Nepal caused a fatal avalanche at Everest base camp on April 25, 2015.
Following the avalanche, Cienski made the decision to cancel all of the spring Nepal-based expeditions and rededicate the 6 Summits team's efforts to provide help in Kathmandu and the Gorkha region alongside Mission 14's existing partner organizations Tiny Hands International, Shared Hope, and Catholic Relief Services. Cienski's experience in Kathmandu renewed his commitment to fulfill Mission 14's goal of raising global awareness to help fight human trafficking.
Beginning this month, the 6 Summits Challenge will continue in Pakistan with an attempt to summit Gasherbrum I (26,470 ft.), Broad Peak (26,401 ft.) and Gasherbrum II (26,362 ft.), which are the 11th, 12th and 13th highest peaks in the world, respectively. He has climbed Broad Peak on two occasions and reached the summit in 1990.
For more information: www.6summitschallenge.com
Team Hopes Hovercraft Will Hoover Up Funding
The Fara Heim Foundation has acquired a Tiger 12 hovercraft (see EN, March 2015). The oceangoing Tiger seats eight people, travels over 50 mph and can handle five-foot waves. Fara Heim will use the hovercraft to support their expeditions into the Canadian North where the tides are over 10 feet and create mud flats miles long. The Tiger requires a $60,000 rebuild to return to operational state with the costs including a new engine, avionics, wiring, and most costly, a new skirt. The skirt is a key part as it makes the Tiger float on air.
The Tiger 12
The Tiger will be used on Hudson Bay and travel all the way to Greenland and Iceland to search for evidence of Icelandic/Viking expeditions.
Fara Heim will use the Tiger for three to four weeks per year during their expedition season. They are looking for a financial sponsor who can take advantage of this unique mode of transportation. The main sponsor will give the Tiger a name and be able to create unique adventure marketing opportunities. For more information: David Collette, Team Lead, 262 960 2959, david@faraheim.com.
Team Sedna's Susan Eaton Named One of Canada's Top 100 Explorers
Susan Eaton is a Canadian trail blazer
Susan R. Eaton, a Calgary-based geologist, geophysicist, journalist and polar explorer, has been honored by the Royal Canadian Geographical Society's list of the nation's top modern-day trailblazers.
Canada's 100 best explorers list, published in the June 2015 issue of Canadian Geographic Magazine, was determined with the help of the Fellows of the RCGS. In its selection process, the RCGS looked for world and national firsts, and individuals who have made significant and lasting impacts in their fields.
Eaton is founder and leader of the Sedna Epic Expedition, which is comprised of an international team of female ocean scientists, snorkelers, divers and explorers (see
EN, December 2013). In 2017, on Canada's 150th anniversary, Team Sedna will launch a snorkel relay of the 1,864-mi./3,000 km-long Northwest Passage to document disappearing sea ice in the Arctic.
In July 2014, Eaton led a RCGS-sponsored, ten-woman team on a proof-of-concept snorkel expedition, from Labrador to Greenland. During snorkel relay trials - in pack ice and bergy bits along the northern Labrador coast and in the 9,000-foot-deep waters of the Davis Strait - the sea women traveled 22-mi./35 km in less than 12 hours, demonstrating that the Northwest Passage is firmly within their grasp.
That's nice. But we're also impressed by the alphabet soup of initials after her name: Susan R. Eaton, P.Geol., P.Geoph., M.Sc., B.Sc. Hon., B.J. (Journalism) Hon.
Learn more about Team Sedna at: www.sednaepic.com
EXPEDITION NOTES
Wait for the Mountain to Blink
Lafayette College awarded blind climber Erik Weihenmeyer's the degree of Doctor of Human Letters during graduation ceremonies on May 23.
President Alison Byerly said, "You encourage people to turn adversity into an advantage, to view nature as a laboratory of human nature, to treat failure as a springboard for success, to balance hubris with humility. As you've poetically pointed out, you can never conquer a mountain; you can reach its top only when it naps or blinks."
Listen to Weihenmeyer's commencement address here:
Climbers Going for Gold
The Tokyo 2020 Olympic Organizing Committee recently announced the eight shortlisted IOC-recognized International Federations, and sport climbing is on the list.
"Climbing competitions are exciting and challenging events for both the athletes and the spectators, whether it is Speed, Lead or Bouldering. With a young and quickly growing fan base, and an increasing number of excellent young athletes, our sport has a bright future," says Jérôme Meyer, International Federation of Sport Climbing (IFSC) Sport Manager, and former World Cup winner and European Champion.
Recent years have seen an impressive growth of climbing gyms in Japan, says the group, and the country is fostering a lively and vibrant climbing community and several world level athletes, in both senior and youth categories.
The Tokyo 2020 Organizing Committee will make a decision on the events to be proposed to the IOC in September 2015. The final decision will be made at the 129thIOC Session in Rio in August 2016.
Read more about it in Climbing magazine: http://www.climbing.com/news/climbing-gets-second-chance-at-2020-olympics/
Photographer Wins $25,000 Artist-in-Exploration Award
The Explorers Club Artist-in-Exploration Program, sponsored by Rolex, has awarded its 2015 grant of $25,000 to Carlton Ward, Jr., an Explorers Club Fellow, award-winning conservation photographer and eighth-generation Floridian from Tampa. The grant will support a photography collection, "Florida Wild," based on his 2015 Explorers Club Flag Expedition through the Florida Wildlife Corridor.
Photo courtesy of Carlton Ward, Jr
"Each photograph," Ward writes, "will be a window of discovery, celebrating the little-known people, places and wildlife that make up the Corridor; ancient pine forests, deep river swamps, freshwater springs, surprising wildlife, mysterious ravines, wild rivers and forgotten coastlines...where panthers still stalk deer through the forests and black bears forage among palmettos as old as bristlecone pines."
Said Les Guthman, chair of the Artist-in-Exploration Committee, "Carlton is an extraordinary photographer. His long, imaginative expedition through the Florida wilderness was a revelation to the committee. We look forward to exhibiting the first of his Artist-in-Exploration photographs at the Lowell Thomas Dinner this fall, which will be held in Melbourne, Florida - a perfect convergence with his Florida expedition and also with the dinner's theme, 'Visionaries of Conservation.'
For more information: www.explorers.org
FEATS
Swimming Through Poop
Environmental activist Christopher Swain, 47, swims the most polluted water he can find to raise awareness for clean water. Last Earth Day, he swan a mile in the notoriously toxic Gowanus Canal in New York, according to Sonja Sharp writing in the
Wall Street Journal (Apr. 23). Wearing a drysuit, gloves and booties, he reports to the
Journal that the Gowanus, "... tasted like mud, poop, ground-up grass, detergent and gasoline."
According to Swain's website the purpose of his swims is to put threatened waterways squarely in the public eye, and to support protection, restoration, and education efforts.
Read the Journal story here:
See some gag-inducing Gowanus Canal images here: http://www.swimwithswain.org
QUOTE OF THE MONTH
The only thing that overcomes hard luck is hard work.
- Harry Golden (1902-1981), Ukranian writer
EXPEDITION FOCUS
Mallory's Camera Holds Key to Mountaineering's Greatest Mystery
Litchfield is an idyllic Connecticut town right out of a Hollywood movie. There beneath a spreading Chinese chestnut tree, historian and expedition leader Tom Holzel, 74, sits during a recent interview, his mind a thousand miles away. On the north flank of Everest to be exact.
Tom Holzel is searching for the camera thought to have been carried by Sandy Irvine on Everest in 1924.
Thanks to his own expedition to Mt. Everest in 1986, the book he co-authored in 1986, dozens of Everest books in his condo basement, and a trinocular microscope he uses to study detailed maps of the mountain, Holzel is the world authority on the whereabouts of the body of Sandy Irvine, George Mallory's climbing partner in 1924. Irvine's remains are thought to hold a Kodak Vest Pocket Camera that could provide evidence of the success, or failure of the 1924 Mallory-Irvine Expedition.
It was Holzel who correctly predicted the location of Mallory's body on a 8165 meter snow terrace found in 1999 by Conrad Anker. Holzel thought it would be Irvine, not the famed "because it is there" mountaineer, but was delighted about the discovery nonetheless.
Holzel studies Everest maps in his Connecticut home
After studying the mystery for 40 years, he's looking for $10,000 to sponsor a low altitude fly-by of a precise spot on the 8400 meter level of the Everest north side in Tibet where he thinks Irvine, the camera, and several rolls of film are located. To date, no one has come forward with the funding for the research trip, yet Holzel knows that if and when a camera is located, it's ownership will undoubtedly launch an unprecedented legal battle between the Chinese who own that side of the mountain, the Royal Geographical Society (with IBG), the Irvine family, and Mallory's heirs.
"Whoever finds the camera will likely be sued," he said. "They need to go in, keep their mouths shut, get the camera and bring it out secretly."
He estimates the camera's value at hundreds of thousands of dollars regardless of whether the film, which should still be viable according to researchers at Kodak, shows the team at or near the summit. He has a renowned photographic expert ready to carefully develop the A127 film using delicate and complex techniques lest the images be ruined.
Holzel is sure Irvine was given the camera because, well, as leader Mallory would have wanted to be in the summit photograph, this, of course, being an era that predates the selfie stick by 90 years.
Holzel thinks the images would show that Mallory and Irvine did not, in fact, summit, faced as they were with the insurmountable challenges of overall exhaustion, lack of adequate hydration, the length and difficulty of the route, Irvine's lack of climbing experience, and the inadequacy of their clothing.
He seeks funding for a small team prepared to search for the camera instead of attempting to summit. A team willing to keep its discovery a secret and literally smuggle the camera back to the States. Mountaineers prepared to solve the greatest mystery in the history of mountaineering.
For more information: www.velocitypress.com
MEDIA MATTERS
Climbing gym owner Mike Wolfert helped victims of Metro-North disaster
Local Hero
We love it when climbing gyms break through into mainstream media. For many of us unable to get to various high points of the world, they're a great place to hone techniques and stay in shape. Thus we were heartened to read about how one gym owner, Mike Wolfert of The Cliffs in Valhalla, N.Y., went above and beyond the call during a deadly Metro-North train wreck just outside his Westchester facility. They transported 200 passengers to shelter in his gym. For that he was named a Best of Westchester 2015 local hero.
Read the story here: http://www.westchestermagazine.com/Westchester-Magazine/July-2015/Best-of-Westchester-2015-People-Media-Editors-Picks/
Nepal Tourism Gets Back on Track
A high-level national committee led by Minister for Culture, Tourism and Civil Aviation Kripasur Sherpa has decided to bring country's tourism industry back on track, according to a story in the July 7 Himalayan Times.
The panel stated that country needed tourists to revive its economy. "The Kathmandu Valley has been declared a disaster-hit zone only to dismantle quake-hit structures but the entire city is safe for visitors, as most of the historical, as well as heritage sites, are already open for public viewing," said a tourism official.
The panel has also decided to immediately introduce weather forecast system in the base camps of major peaks, including Mt. Everest, to facilitate trekkers and expedition members visiting the areas.
Read the entire story here: http://thehimalayantimes.com/latest/bid-to-revive-tourism-gains-momentum/
Anker Witnesses Climate Change First-Hand
Famed climber Conrad Anker attended a screening of the mountaineering film
Meru during the Berkshire International Film Festival in Great Barrington, Mass., on May 28. The feature-length documentary follows three big-wall climbers and their various attempts to summit the Shark's Fin on Mount Meru in the Himalayas - one of the world's most challenging climbs," writes Shea Garner in the Berkshire (Mass.) View, June 2015.
During a post-screening talk, Anker said he considers himself as the "eyes and ears" of the mountains. He continues, "High altitude and high latitude are both feeling the effects of increased carbon in the atmosphere and it's changing the climate very dramatically.
"We see it. It's a big part of what I do with my life and my work."
You can read the coverage here (see page 25):
Real Housewives of NASA
A new ABC miniseries, The Astronaut Wives Club, tells the true story of seven modest military wives who rocketed to fame when their husbands were named as NASA's original Mercury astronauts in 1959. Andrea Morabito writes in the June 12
New York Post,
"As the men fought a symbolic Cold War in the skies - with each successful mission celebrated as a dent in Soviet Communism - the women rallied around each other back home."

The 10-episode miniseries spans 1959 to 1971, a decade-plus span based upon Lily Koppel's 2013 oral history, The Astronaut Wives Club: A True Story" (Grand Central Publishing, 2013).
Watch the trailer here: http://nypost.com/2015/06/12/these-badass-women-inspired-astronaut-wives-club/
EXPEDITION MARKETING
Liz Thomas shows some love for her sponsor Altra Footwear
Urban Hiker Works Hard to Support Her Sponsors
We've written about this for years, and there's, ahem, an entire book on Amazon (hint, hint) about the importance of delivering value to sponsors that support an adventure or expedition. Thus it was heartening to meet urban hiker and Appalachian Trail (AT) speed thru-hiker Elizabeth Thomas. The 29-year-old from Denver was in Chicago staffing the booth of her sponsor Altra Footwear at The Running & Fitness Event For Women, an industry trade show that tracks the $11.5 billion women's active market.
By "staffing," we mean talking to buyers one-on-one, addressing hundreds of others on a boat tour of the Chicago river, scooping ice cream in the booth, and demonstrating the product performance of Altra shoes by walking 60 miles through the streets of Chicago over a two-day period.
Equipped with raingear, an umbrella, sunscreen, water bottle, and Probars, she said of the experience, "I feel like Chicago is a lot safer than I thought it would be."
An environmental consultant, the Yale graduate is most noted for setting the women's unsupported AT thru-hike speed record of 80.5 days (2011). She carried an 8 lbs. pack, not counting food and water which she purchased en route. Her inspiration was Benton MacKaye (1879-1975), the American forester, planner and conservationist who conceived of the AT in 1921, and who famously said of long distance trails, "To walk. To see. To see what you see."
This month Thomas is tackling the Sierra High Route through the Sierra Nevada, leaving from Twin Lakes, Calif. for the 250-mi. journey sponsored by Altra, Darn Tough and Probar.
Echoing MacKaye, she said, "I want to say there's a lot to be gained by seeing new things. It may not be so scary out there after all."
For more information: www.eathomas.com
WEB WATCH
Fun toy, but better not bring it skiing.
Ski Areas Say, "Not So Fast" to New Drone

The latest in drone technology is being previewed online, but ski areas are already saying, "No so fast." Lily is the world's first throw-and-shoot camera. Members of the "dig me" generation just throw it in the air to start shooting. Lily flies itself and uses GPS and computer vision to follow a tracking device, which is worn on the body. Lily is waterproof, ultra-compact, and shoots HD pictures and videos. Expect to see it on the market in February 2016 for $999. But don't expect to see it at ski resorts next season. Resort managers are giving drone use by guests the stink eye, lest it start running into lift towers and causing other havoc.

"Allowing recreational drone users who fly drones for fun to do so at resorts presents potential liability issues. Currently risk management considerations for resorts include such things as safety, privacy, insurance and liability issues," writes Karen Lorenz in
Mountain Times (Jan. 28, 2015).
Read her story here:
Watch the Lily video and see if you start to slobber over the thought of getting one for yourself:
www.lily.camera
ON THE HORIZON
Boulder Hosts Adventure Film Festival
Sept. 12-13, 2015
This two-day event premieres a powerful collection of the year's most
insightful and award-winning outdoor and environmental films at the Boulder Theater in Boulder, Colo. The weekend festivities also include an interactive Adventure Film School guided by world-class filmmakers, a Family & Kid's Festival, and an Adventure Street Fair.
After the Boulder premiere, Adventure Film Festival will tour the 2015 award winners to Chicago, New York, Santiago, and several major cities in between. For more information, visit: www.adventurefilm.org
EXPEDITION CLASSIFIEDS
Experience the Greatest Adventure Story of All Time -
Join the Shackleton 100-Year Endurance Anniversary Expedition.
Is the book Endurance a favorite on your bookshelf? Does a mention of Shackleton give you goose bumps? Do you love adventure, wildlife and exploration? If your answer is, "yes, Yes, YES!", join PolarExplorers this November as we celebrate the 100-year anniversary of Shackleton's incredible journey with our own expedition to South Georgia Island.
We will visit the sights made famous by Shackleton, including Peggotty Bluff, Stromness Bay and Grytviken, home of Shackleton's grave. For the serious adventurer we offer a four-day ski traverse of the island using Shackleton's route. Dates: November 1-21, 2015 from Puerto Madryn, Argentina. For additional information including pricing and availability call Annie or Rick at 800-RECREATE (+1-847-56-4409) or email
annie@polarexplorers.com
or visit
www.polarexplorers.com.
Get Sponsored!
Hundreds of explorers and adventurers raise money each month to travel on world class expeditions to Mt. Everest, Nepal, Antarctica and elsewhere. Now the techniques they use to pay for their journeys are available to anyone who has a dream adventure project in mind, according to the new book from Skyhorse Publishing called: Get Sponsored: A Funding Guide for Explorers, Adventurers and Would Be World Travelers.
Author Jeff Blumenfeld, an adventure marketing specialist who has represented 3M, Coleman, Du Pont, Lands' End and Orvis, among others, shares techniques for securing sponsors for expeditions and adventures.
Buy it here: http://www.amazon.com/Get-Sponsored-Explorers-Adventurers-Travelers-ebook/dp/B00H12FLH2
Advertise in Expedition News - For more information: blumassoc@aol.com
EXPEDITION NEWS is published by Blumenfeld and Associates, Inc., 1281 East Main Street - Box 10, Stamford, CT 06902 USA. Tel. 203 655 1600,
editor@expeditionnews.com
. Editor/publisher: Jeff Blumenfeld. Assistant editor: Jamie Gribbon. Research editor: Lee Kovel. ©2015 Blumenfeld and Associates, Inc. All rights reserved. ISSN: 1526-8977. Subscriptions: US$36/yr. available by e-mail only. Credit card payments accepted through www.paypal.com. Read EXPEDITION NEWS at
www.expeditionnews.com
. Enjoy the EN blog at
www.expeditionnews.blogspot.com
.